If you're like me, the entry-point into the hobby has always had synonymous ties with one brand, Seiko. We know Seiko has a large market, economically ranging from a Seiko 5 to a Credor Tourbillion. But what about geographically? That's where the JDM line comes in. As a brand with such a large product offering and different customer segments, Seiko made the choice to leave some of the best for their local customers. Here's everything you need to know for JDM Watches.
What Constitutes A JDM Watch
For starters, as the name suggests, these watches are only meant for the Japan Domestic Market. While there aren't export restrictions, the line isn't marketed internationally by manufacturers. However, with the growth of the internet and the availability of information, it wouldn't be a surprise for overseas dealers having them for sale.
Orient, Casio and Citizen also uses the 'JDM' designation, although it's usually tightly-associated with Seiko.
The Appealing Features
Better Standards
The aforementioned brands already produces excellent watches for the money. The cream of the crop of their offerings, however, belongs back at their home. During production, Japanese factories follow strict regulations, ensuring consistency and quality for just about everything made.
Japan produces fine watches, no doubt, and their JDM are amongst the top of the line in their offering.
"Made In Japan"
With "Made In Japan" imprinted on any product, the general consensus is that it's likely a well-built one. The Japanese have built up respect in many industries for their crafts by earning it. Attention to detail and high regulations paved the way for them, and rightfully so.
'JDM' Designation
While not all Seiko are made in Japan, the JDM line dictates it must be. Forget collectors, even consumers who would want the real deal would look towards that direction.
On the other hand, the print "Made In Japan" on your watch doesn't signify it is a JDM model.
Notable JDM Models
Seiko SARB017 'Alpinist'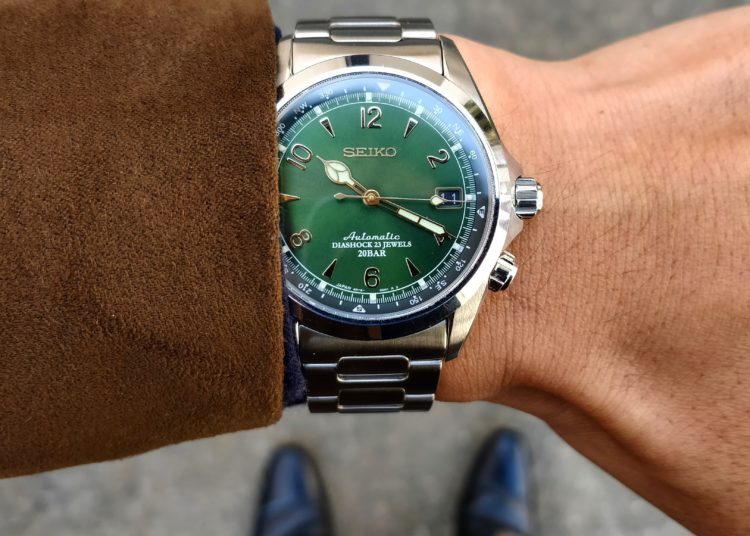 Introduced in 2007, the SARB017 stems from the Alpinist line. Despite having been discontinued, it remains as one of the best-value tool watch sub-$1000. The colour combination initially put me off but it has since grown on me. It's one of those watches that are easily identifiable and at a glance, I know the wearer is surely an enthusiasts.
Having owned it for some time, it feels well-built with a great size. The compass function is also really interesting to be another function of a watch. No problems in the quality department, is it note-worthy as a JDM model though?
I think so. The watch is simple, relatively so, but the facets of the dial felt well-thought out. The case, needed to match a rather complicated time-only dial. Overall, it wasn't an easy watch to put out. So it's understandable why the target would be domestic instead. Nonetheless, this watch wasn't difficult to acquire. With a large demand, exporters knew that supplying overseas would do them well.
Seiko SARB033/SARB035
Like the SARB017, Seiko introduced these earlier this decade but since discontinued production. Both models remain as some of most iconic Seiko, but since their discontinuation, the value for both has skyrocketed. What used to be the epitome of value propositions have now since lost that title.
Finding these two watches at the second-hand market, I'm appalled to see prices at twice it's original-well-price. While the two models lost their luster for being great entry-level watches, they remain as two elegant timepieces suitable for daily-wear.
While I cannot recommend any purchase for these, I will not deny that they remain as two important watches Seiko released for their domestic market.
CASIO OCEANUS OCW-S100-1AJF
There is an unsurmountable adjectives used to describe this plain-looking piece. Against all odds, Casio managed to make this quartz watch one of the best there is.
At first glance, this Oceanus appears like an affordable boring watch you can run to the mall and pick up. Behind it's facade though? An incredible timepiece that is objectively good. When talking about watches, some might go on and speak about how 'good' this and that piece is, but can never justify how so.
If you know the Casio Oceanus well, you're likely to be able to do so, easily. For starters, it's movement is capable of transmitting radio-signals from 6 different countries to tell 'Atomic Wave' world time. That movement is mounted with metal and plastic for increased robustness. All encased in Sallaz polished titanium, of which is also employed at Grand Seiko.
It is undoubtedly a 'good' watch. Casio have clearly done it right for this line, with praising sung from all over the world.
Places Selling JDM Models
Now that you've known about JDM and their appeals, where do you source one? Aside from discontinued models, JDM watches can be had at selected retailed imported directly from Japan.
There's a drawback however, outside of Japan, you will not find an authorised dealer for JDM watches. Instead, Here's a list of stores with worldwide shipping options, they may not be ADs, but they are definitely trustworthy options to consider.
Gnomon Watches
A Singapore retailer who first opened their doors in 2002. Gnomon is most known for their array of Steinhart and Squale offerings, but are also a dealer for brands such as Seiko. Their Seiko collection largely constitutes JDM models, but also consists of some main production models.
As an established retailer, I have nothing but praises for their customer service. While I had no problems with past purchases, I re-sized the bracelet for a SARX055 and they were attentive and hasty with the procedure.
Their site is rather optimised for international buyers, offering free shipping to most countries and a catalogue clearing indicating prices including taxation.
Address:
www.gnomonwatches.com
Millenia Walk, 9 Raffles Boulevard, #01-73/74, Singapore 039596


Seiya Japan
The story behind Seiya Kobayashi and how he started Seiya watches is heartfelt and interesting. The story of a Grand Seiko and his pursuit of procuring Japanese watches worldwide with pride is an uncommon story to chance upon. While stories like these aren't the selling point of the watches offered, it feels better supporting someone with a clear vision.
As for shipping, I would say that it would take awhile, with lockdown delays a contributing factor. When buying market-specific watches like the JDM though, I'm sure most would agree that it'll be worth the wait.
Site:
www.seiyajapan.com

Sakura Watches
Sakura Watches pride themselves not only in communication, but also their warranty, A quick browse of their site, and you'll notice that tags of "5-year warranty" stamped even on Seiko 5 models. For myself, the assurance of a manufacturers warranty would be meaningful especially purchasing from abroad.
I would say that pricing would be on par with the previously mentioned stores, and I urge shoppers to compare the deals from all reputable online retailers.
Address:
www.sakurawatches.com
Chome-2-13 Shimane, Adachi-ku Tokyo, 121-0815


Personal Opinion Of JDM
JDM releases offers a fresh take off the brands production line. When purchasing JDM watches, you're more likely convinced that it's the better off-shoot of already great timepieces. As such, you're pretty much paying a little more and getting a little more.
Is it worth it? It definitely depends on whether or not you're keen on getting those slightly more exclusive models. International releases like the SKX line had the liberty of maintaining great value due to soaring-high production number. I myself wouldn't mind dabbling at all, however, I do feel that past JDMs have taken a spotlight unable to be overshadowed by new releases anymore. But as the adage goes: "Out with the old, in with the new", as mentioned in our previous article, Brands like Seiko have pushed out incredible pieces, and I certainly hope to see the same trend with lines like the JDM.
When purchasing these watches, it is also important to ensure that it is a trusted seller, with the level of demand, replicas have been emerging even for these watches that already value-for-money.
Last but not least, Check out our Youtube Video of the same topic, which provides a quick summary on the three above-mentioned JDM Watches, as well as our Instagram Page to stay updated on our latest article and video releases.