The article that I've been looking forward to and promised to write. The recollection of my purchase experience of the J&S Watch Co 101 10th Year Edition (a pretty long name) from none other than the Land of Fire & Ice.
If you're wondering, Fire & Ice refers to the beautiful northern lights and the extensive glacier which covers roughly 11% of the land area of Iceland. Unfortunately, global warming has been melting the glaciers and it is retreating faster than we expect, probably gone in the next few decades.
Another wonderful thing besides the natural wonders of the earth and vikings? The World's Smallest Watch Manufacturer, probably.
The interesting thing about this story is, I've never intended to visit this place and I totally forgot reading about the article from Hodinkee where they visit and interviewed Gilbert, the founder of J&S Watch Co.
I landed in Iceland halfway through my trip after visiting Norway and the moment we were at Reykjavik, my brother parked the car and I glanced across the street and spotted this quaint little shop tucked neatly between other shophouses.
After noticing some watches on display I thought to myself, could it be a general distributor of some other watch brands?
I knew I had to take a look and to my amusement, I spotted the sign on the door "Probably the world's smallest watch manufacturer" and it immediately piqued my interest. When I walked in and saw Gilbert, I quickly realised this was the shop that the lads over at Hodinkee visited!
You cannot miss the hall of fame when you're in the shop, featuring many celebrities such as Ben Stiller and even Ed Sheeran who patronised.
I was engulfed with excitement as I browsed some of his pieces and just like any amiable Icelander, Gilbert asks, "What can I do for you today?"
I sparked a conversation with him and he quickly understood my affection for watches that was where he had something very special for me.
He turned to the back and reached out to this stunning piece from his drawer, it was the 101 10th Year Edition.
The 101 is a name and postal code dedicated to the old town centre in Reykjavik where Gilbert started out by assembling some of his first watches and needless to say, the 10th Year edition was a commemoration of the 101 collection where it has been their most successful watch to date.
Sealing the deal
When I first saw the watch, it put me into a dilemma as I obviously didn't set a budget aside for this prestigious occasion.
I fiddled with the watch for a good few minutes and thought to myself, "When will be the next time I'll step foot in Iceland?". Albeit, they offer overseas shipping but the experience was really one of its kind.
Gilbert gave me a great offer and his stories regarding him making a few watches, such as the SIF NART (North Atlantic Rescue Timer) and the World Cup collection to commemorate the coast guards of Iceland and when Iceland qualified for its first World Cup and giving each member of the Reyjavik coast guard a piece made me took out my wallet to finalise the payment.
The purchase of the watch was more than a personal "dopamine-driven" act. However, it was a transaction of respect and idolisation of the remarkable feats Gilbert has achieved right behind the small space of his shop. As far as I can tell, it was more than just watchmaking, it's a representation of pride, love and unity for the country by a man with the ability to craft timeless watches.
Specifications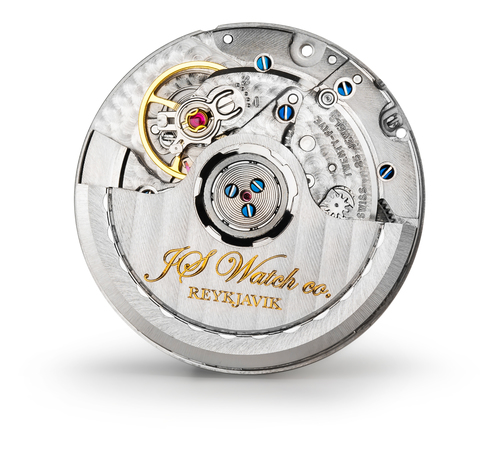 Movement
Swiss Made Mechanical movement "Execution Top"
Automatic winding
25 jewels, Custom decorations, Blue screws and Rhodium plated finish.
42-hour power reserve when fully wound.
Fine tuning: "Assortment Chronometer".
Shock protection: Incabloc.
Adjusted to five positions.
Case
Material: Surgical grade German Stainless Steel "316L".
Diameter: 38.5mm, height 10.3mm.
Surface finish: Highly polished.
Curved Sapphire Crystal with multi anti reflective coating on the inside.
See-through Sapphire Crystal back.
Lug width: 20mm
Dial
Black with hand applied Rhodium plated indexes.
Antic White with hand applied Rhodium plated indexes.
Date display at six o'clock.
Hands
Rhodium plated hands in Lancette style
Strap
Handmade 20mm Ostrich or Ostrich leg with JS Watch co. Reykjavik buckle or optional deployment clasp.
Steel bracelet also available.
Final Thoughts
At the end of the day back in my apartment, I recalled admiring the watch for a good hour and let out a sigh of relief.
It was a delightful moment as I know I was providing support for a brand that often bestow it's patriotism onto the things I grew fond of, watches.
If you like this article, here's another interesting read on 5 Politicans And Their Watches!